Automated track monitoring systems help maintain railroad safety by providing early warning of unwanted changes in track geometry. Datasheet
Track Monitoring Solutions
Track monitoring systems offer continuous operation and automated processing, alerts, data visualization, and reports.
GEO implements most track monitoring solutions with AMTS systems, sometimes adding automated vibration monitors, tiltmeters, and shape arrays, as required by the project.
Advantages of Automation
Eliminates most site visits, reducing costs and enhancing safety.
Obtains frequent measurements, increasing confidence in the data and providing early identification of unwanted trends.
Operates continuously, updating a secure website and sending alerts as needed.
Operation
Track monitoring components include rail-clip prisms, an AMTS system, and GeoCloud data processing and presentation.
Rail clip prisms are installed in arrays on both rails, typically at the same interval to form prism pairs. Other prisms may be installed to monitor the sub-ballast or engineered soil beneath the tracks.
The AMTS system, which monitors the prisms, is positioned for the best line of sight to the prisms. Location flexibility is provided by solar power and GEO's AMTS towers. Multiple AMTS systems can be optically networked to monitor very long spans of track.
Measurements from the site are relayed to GeoCloud web servers by cellular modem. The servers apply least-squares adjustments to the AMTS measurements, process the data as required, send alerts of any alarm conditions, and then present the data on a secure website.
Advanced processing may include presentation of longitudinal profiles, transverse displacements, cross levels, and twist.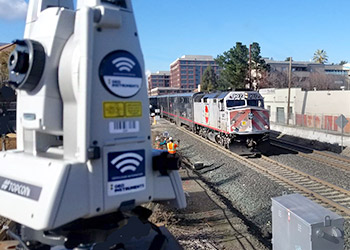 This AMTS system is monitoring rail clip prisms on the tracks and road prisms on a road crossing.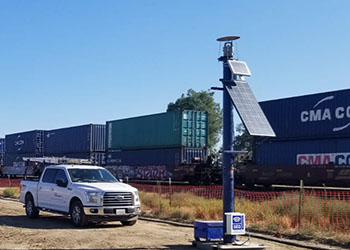 AMTS systems mounted on towers can be positioned nearly anywhere. Solar panels provide power.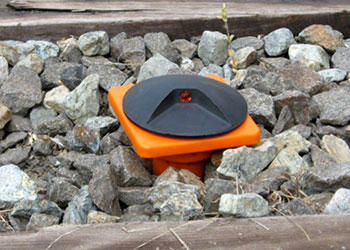 Low-profile prism installed to monitor deformation in the sub-ballast.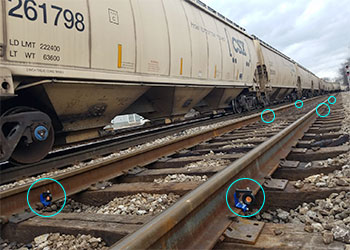 The arrays of rail clip prisms are typically installed along both rails.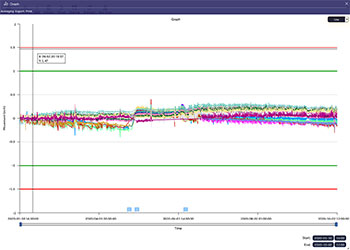 Data can be presented in plan views, trend plots, and tabular form.