Rail clip prisms are special purpose survey prisms used with AMTS track monitoring systems to provide early warning of unwanted changes in track geometry.  Datasheet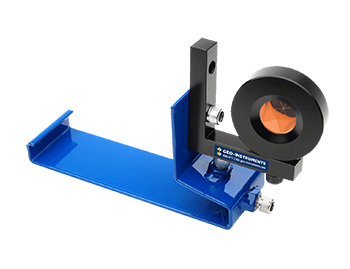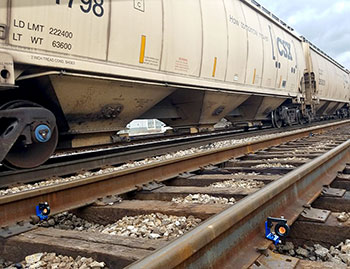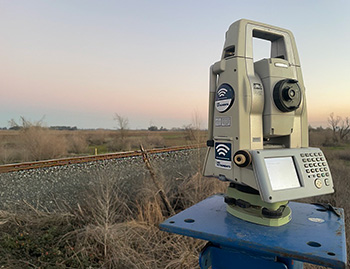 AMTS Monitoring Rail Clip Prisms
Advantages
Easy Installation: Position rail clip and tighten screws. No drilling or wiring required.
Durable: Simple, waterproof construction with no moving parts or electronics.
High Performance: Coated optics for better performance.
Cost Effective: Low cost per monitored point compared to conventional sensors.
Installation
Rail clip prisms are typically installed on both rails and spaced along the track at specified intervals. A single AMTS can monitor rail clip prisms up to 600 feet away, assuming good angles of view and clear line of sight.
Fit the rail clip to the rail. Tighten the hex screws until the clip is firmly attached.
Attach the L-bar, adjusting its angle so that the prism will directly face the AMTS.
Attach the prism to the L-bar, aiming it at the AMTS.
Specifications
Rail Clip: Powder-coated steel, stainless steel screws. Available in 5.5 or 6-inch sizes.
L-Bar Bracket: black anodized aluminum, 3 inch arms.
Prism: 25 mm optical glass with anti-reflection and copper coatings.
Prism Offset: -25.5 mm for Topcon, Trimble,etc. +8.92 mm for Leica.
Request a quote for Rail Clip Prisms