MPBX borehole extensometers are used to monitor for potential settlement and heave induced by construction activities such as tunneling and excavation. They can also be used to monitor deformation of retaining walls, cut slopes, and underground openings. Fiberglass-Rod MPBX and Digital MPBX
MPBX Applications
Multi-Point Borehole eXtensometers (or rod extensometers) monitor changes in distances between downhole anchors and a reference head. Typical applications include:
Monitoring settlement in soil above tunneling and other mining activity.
Monitoring settlement due to loading of foundation soils.
Monitoring heave in excavation floors.
Monitoring deformation of retaining walls, cut slopes, and tunnel walls
MPBX Components
MPBX components include anchors, rods, and a reference head with displacement sensors. Components may be delivered pre-assembled and ready to install or assembled on site
Anchors and rods are installed at specified depths in the borehole. Rods run upwards from the anchors to the reference head at the borehole collar.
After the downhole components are installed, the borehole is backfilled with grout and the reference head is fixed at the borehole collar.
MPBX Operation
Sensors inside the reference head monitor displacement of the rods, which follow the upward or downward movement of the anchors.
Measurements are typically referenced to the borehole collar or to the deepest anchor.
Most applications require a datalogger and wireless data transmissions to the internet. This is especially important when the MPBX is located in a location that is difficult to access safely or requires traffic control.
Traditional MPBX
Multiple anchor-rod assemblies to install downhole.
Larger diameter boreholes required.
Flush termination is more difficult due to combined length of sensors, logger, battery pack, and cell modem.
Fiberglass MPBX are pre-assembled. Stainless MPBX are assembled on site.
Logger wiring and programming can be complex.
Measurements must be processed to produce engineering units.

Advanced Digital MPBX
Single assembly to install downhole.
Small diameter boreholes possible.
Flush termination is easier due to compact, waterproof reference heads.
Pre-assembled MPBXs are standard.
Wiring to digital data loggers is simple.
Produces engineering units directly. No processing needed.
Versions are available for rock or soil applications.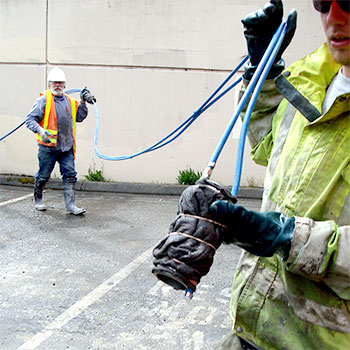 This fiberglass-rod extensometer was pre-assembled at the factory and supplied with geotextile packer anchors. The anchors were later inflated with grout.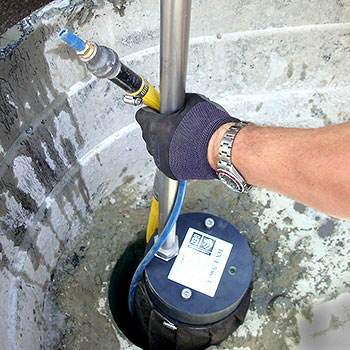 This is a flush installation, so the reference head, sensors, logger, cell modem and batteries were packed into a waterproof canister and positioned below grade.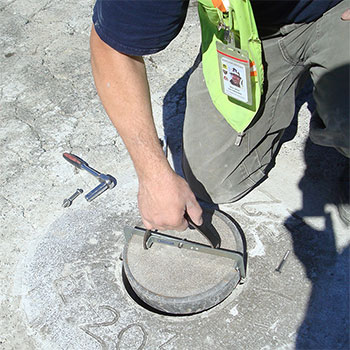 After the borehole was grouted and the collar was finished, a LidLink antenna was added so that the logger can transmit data to a nearby cell tower.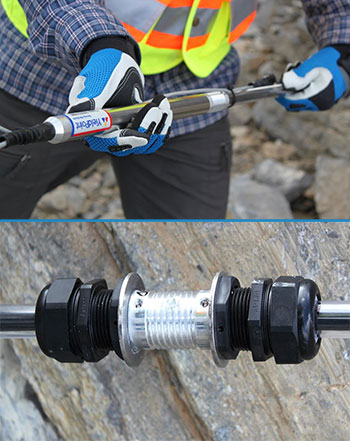 Upper photo shows the small diameter Digital MPBX head which contains six sensors and is waterproof. Lower photo shows an anchor.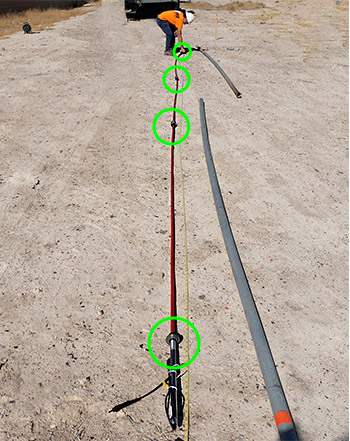 Checking anchor depths before installation. All pre-assembled MPBX must have anchor depths specified at time of manufacturing.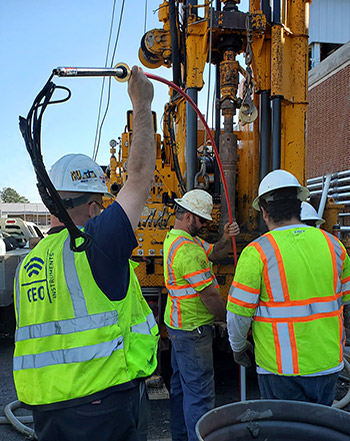 The MPBX must be lifted to avoid bending the rods during installation. The single assembly of rods and anchors makes installation easier.