Wireless data acquisition is an essential element of GeoCloud automation. Wireless loggers and nodes transmit measurements from the project site to GeoCloud servers.
Loggers & Nodes
Wireless Loggers perform complex measurement & control functions to operate complex systems such as automated total stations and arrays of sensors. Loggers are supplied in weatherproof enclosures and equipped with large batteries, solar panels, and stands or towers. Loggers transmit measurements to the internet via cellular modems.
Wireless Nodes perform simpler measurement functions, typically for single sensors. They are supplied in compact, weatherproof enclosures and powered by long-life batteries. Nodes transmit measurements to cellular gateways through a mesh network. The gateways then relay data to the internet.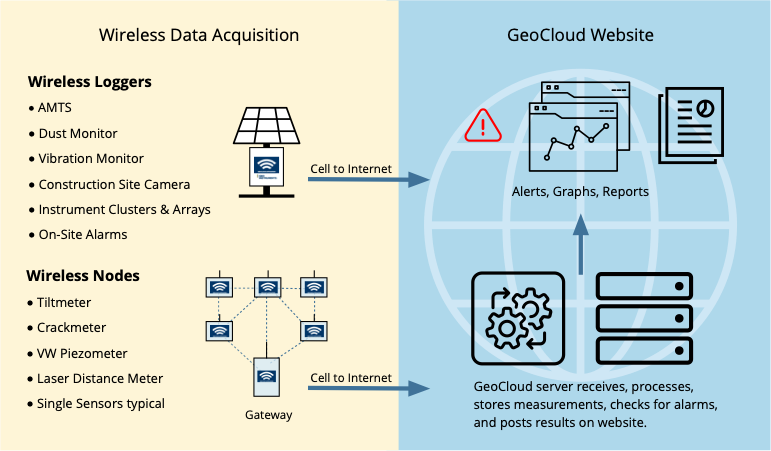 Wireless loggers and nodes are distributed across the site, eliminating long runs of power and signal cables, avoiding problems with RF noise and voltage transients, and increasing the overall resilience of the monitoring system.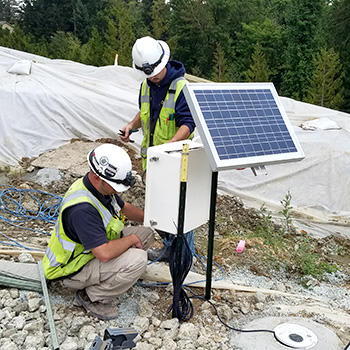 This wireless logger and seven others like it transmit data from shape arrays to a GeoCloud website.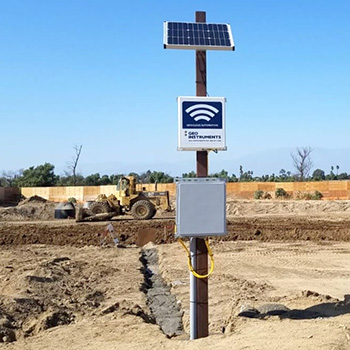 This multi-tasking wireless logger is monitoring settlement cells, multilevel piezometers, and a pressure cell.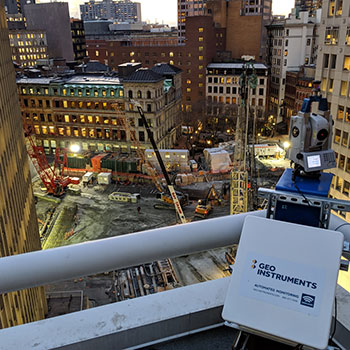 This wireless logger controls an AMTS system deployed to monitor structures adjacent to an excavation.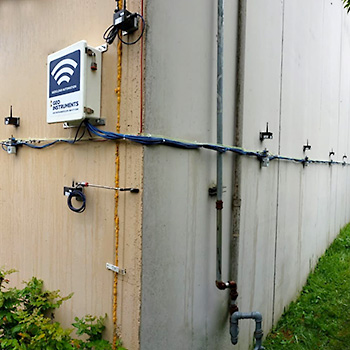 Wireless nodes for tiltmeters and crackmeters supplement a wireless logger monitoring a hydrostatic settlement system.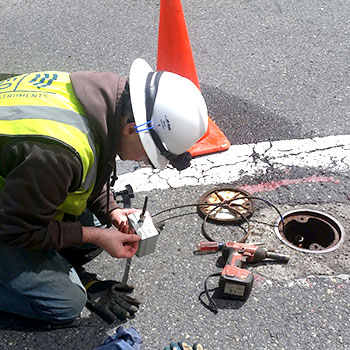 This wireless node transmits readings from a vibrating wire piezometer installed below-grade in center of roadway.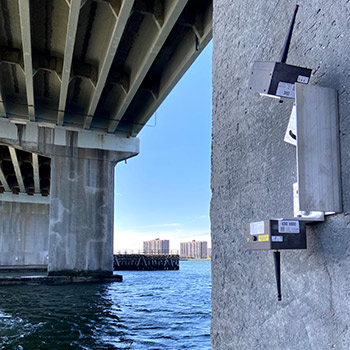 Some nodes, such as these laser distance meters, have built-in sensors. Wireless nodes are ideal for locations that are difficult to access.