Construction site cameras record videos and photos of construction activities. They provide a record of progress, enhance site security, document incidents and weather delays, and complement instrumentation. Datasheet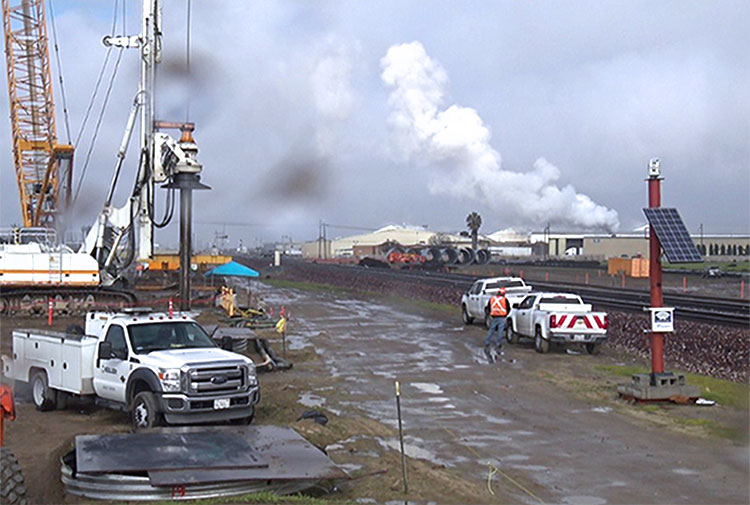 The camera can be controlled remotely through a web interface. You can capture stills, stream video, and schedule time lapse recordings.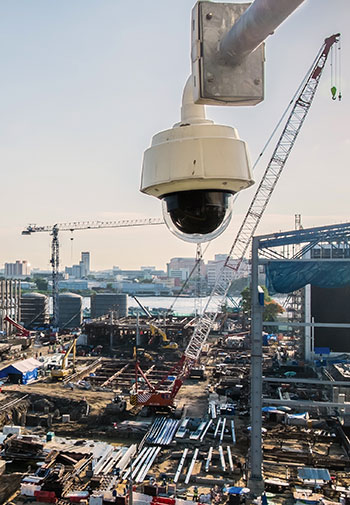 Cameras can be mounted on structures or towers such as the AMTS tower in the photo at left
Camera Applications
Record progress: Images and live streaming video provide an easy way to keep stakeholders informed.
Review operations: Time lapse sequences and video can provide insights for improving work flows, logistics, and safety.
Supplement instrumentation:
Instruments report changes. Cameras can record the activities that cause the changes.
Document weather delays: Time, date, and weather information are recorded with each photo.
Enhance Security: Site cameras can double as security cameras in the off hours.
Reduce Travel: Site cameras offer virtual site visits. Offsite engineers can pan, tilt, and zoom the camera to focus on areas of interest.
Camera Features
High resolution images and video
Optical zoom
Built in defogger
Real Time Mode
Control with PC or smartphone
Pan-tilt-zoom to area of interest
Capture and save images
Streaming video
Time Lapse Mode
Pan-tilt-zoom to preset views
Record time lapses for each view
Search images by date and time
Security Mode
Records at HD 720p resolution
View by date & time
Options
Let's Talk
It's best to talk about your requirements. Include your phone number on the form below, and we'll give you a call.
Time lapse photos are captured automatically at scheduled intervals. A typical interval might be 15 minutes. Longer or shorter intervals are possible. When you view a time lapse, you can choose to see all the photos or just one-per-day, etc, depending on your needs. The "high-speed" effect of the video below was created by specifying just one image per day. For review purposes, shorter intervals between images would be specified, effectively slowing down the video.