Project Overview
Construction of twin residential and commercial towers adjacent to the Rosslyn metro station involved demolition of an entire block of existing buildings, blasting and excavation for deep foundations, and finally the construction of the towers. The station, ventilation shafts at each end of the station, a long escalator, and three high-speed elevators were all potentially at risk from these activities.
Monitoring Program
Selected to implement a monitoring program, GEO-Instruments installed seismographs, AMTS, convergence gauges, and tiltmeters, and then automated the collection, processing, and delivery of data, graphs, and reports.
Seismographs
Vibration levels from demolition activities and blasting were monitored by 17 seismographs, installed in the ceiling vaults above the station and at various elevations in the ventilation and elevator shafts. Each seismograph was equipped with a wireless link and programmed with threshold values for alerts. Full reports were generated each day. More about automated vibration monitoring
AMTS
AMTS were used to monitor for possible deformation of the vault ceilings. GEO installed 72 L-bar prisms along the full length of the station ceiling vault. The prisms, in arrays of 4 at 25-foot intervals, were monitored by four AMTS units. Any movement larger than 0.125 inch (3 mm) would trigger an alert. More about AMTS
Convergence Gauges
Convergence gauges were used to monitor the distance between the vault ceiling and the inner concrete arch station to check for irregular movements due to construction activity. Readings were recorded by a data logger and transmitted wirelessly. Alert levels were 0.0625″ (1.6mm).
Tiltmeters
Tiltmeters were placed in the escalator vault, the ventilation shafts, and the station vault to detect possible deformation and changes in alignment. The ventilation shafts were exposed and supported by temporary scaffolding during the excavation, so tiltmeters were critical in those locations. Alert levels were 1 mm/m.
Data Communications, Processing, and Web Access
Antennas from the radio modems in the vaults were brought out discretely to public areas so that measurements collected by the data loggers could be transmitted to the web. The measurements were received by GEO's web-based monitoring platform, where they were checked for alarm levels and processed. Afterwards, data, graphs, and reports could be accessed on a password-protected website.
GEO-Instruments staff also reviewed the operational status of all systems daily, validating incoming data, and inspecting processed data for trends. Full reports were sent weekly.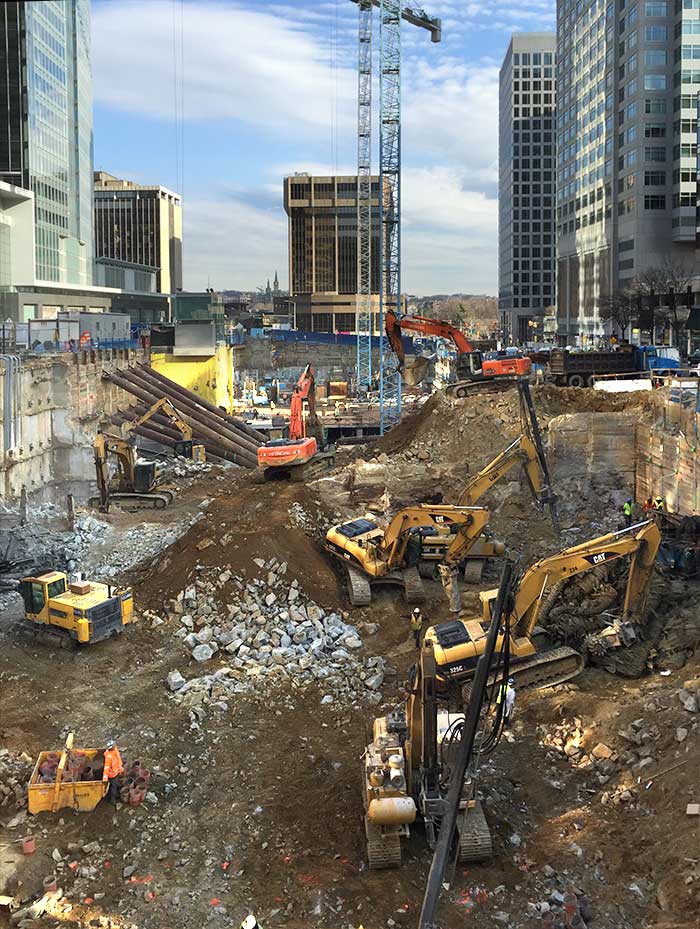 Demolition and excavation activities were adjacent to, and in some cases, directly above the metro facilities.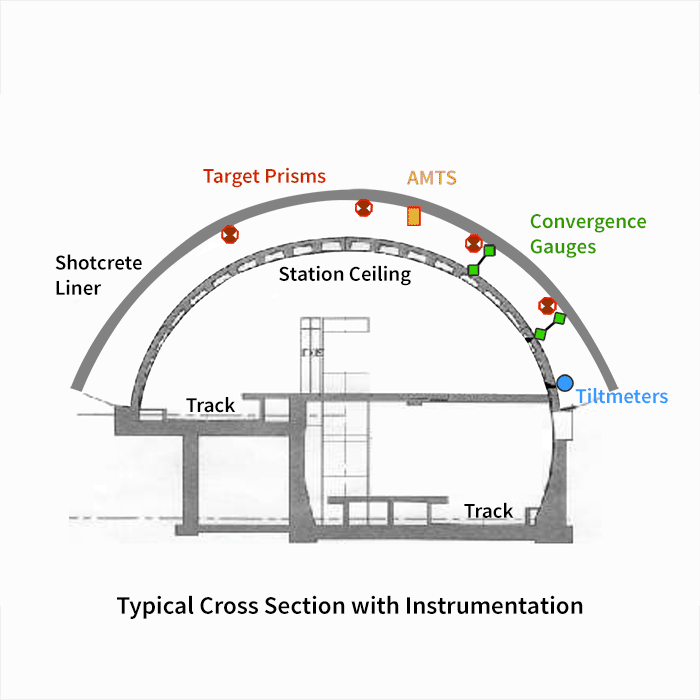 Instrumentation in vault above station included vibration monitors, AMTS, convergence gauges, tiltmeters, and loggers with cellular modems.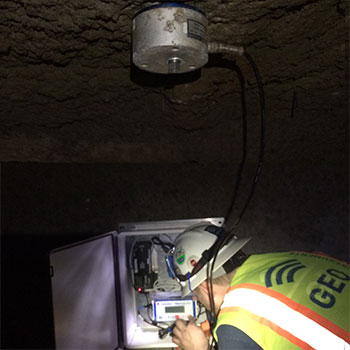 GEO technician configuring vibration monitor installed in ceiling vault.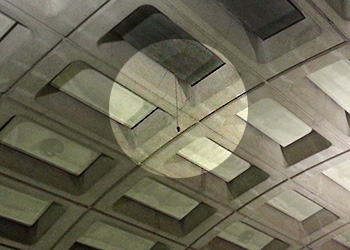 Antenna from cellular modems located above the station ceiling