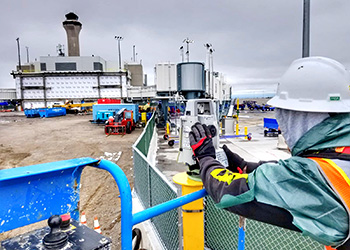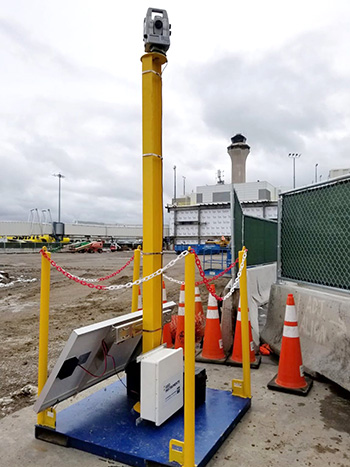 Project:
Denver International Airport will add 39 gates to the existing terminals, increasing capacity by 30%.
Monitoring Requirement
Existing structures must be monitored for movement as excavation and construction takes place. GEO was contracted to monitor four structural columns on Terminal C, which is undergoing a 16-gate expansion.
Implementation
GEO-Instruments installed two L-bar prisms, one high and one low, on each of the four columns and an AMTS system to monitor the prisms. GEO fabricated a transportable tower to provide proper sight-lines to the prism. A solar panel and large batteries provided power for the system, eliminating the need for AC power.
The AMTS system obtained hourly measurements and relayed them wirelessly to GeoCloud servers, which provided least-squares adjustments and then posted data and graphs on a dedicated website.