The Instantel Micromate is Instantel's best-selling vibration monitor. Learn its features and options. Request a quote if you'd like to purchase a Micromate.
Instantel Micromate Overview
The Micromate is Instantel's best-selling vibration monitor / seismograph. Compact and portable, it features a high-resolution touch screen display, a keypad, and context sensitive icons for easy operation.
The Instantel Micromate is designed to monitor ground vibration and air overpressure or sound levels created by:
Demolition activity
Construction activity
Heavy machinery
Pile driving
Dynamic compaction
Tunneling
Near-field blasting
Far-field blasting
Instantel Micromate Features
Sensor Compatibility: The Micromate comes with three channels for a triaxial geophone and one channel for an air overpressure or sound level microphone. Each Micromate is calibrated with a dedicated geophone and configured to meet the International Society of Explosives Engineers (ISEE-2017) standard.
Variable Sample Rates: 1024, 2048, and 4096 samples per second (S/s) for each channel, all with zero dead time between events.
Record Modes: The Micromate supports Waveform, Waveform Manual, Histogram and Histogram Combo record modes and provides a summary in a detailed monitor log.
Full Waveform Event Analysis: The Micromate includes the time of the event, trigger source, peak particle velocity (PPV) for each vibration channel, peak air overpressure, zero crossing (ZC) frequencies, peak vector sum (PVS), maximum acceleration, maximum displacement and more, all available on the unit in the field.
Memory: The micromate has an internal, non-volatile memory of 15 MB that can store up to 1000 events of 1-second duration. An optional upgrade increases the memory to 60 MB for a storage capacity of over 4000 events.
USB Data Transfers: A built-in USB port lets you transfer recorded data to a USB flash drive without the need of a computer.
Battery Life: With fully charged batteries the Micromate provides 10 days of monitoring (15 day option available).
Temperature Range: The operating temperature for the Micromate is -40°C to 45°C (-40°F to 113°F)
Compliance Reports: Instantel Blastmate software running on Windows PCs produces printed compliance reports.
Instantel Micromate Options
Optional Protective Boot: The recommended optional boot provides added protection as well as increased flexibility for mounting your Micromate unit.
Optional Microphones: The Micromate supports Linear Air-Overpressure microphones for blasting activities and Sound Level Sensors for sounds that humans can hear, such as construction noise.
Optional Remote Alarm: The Remote Alarm allows the Micromate to control two external devices such as sounder or strobe lights. Requires the optional Auxiliary I/O connector be installed.
Optional External Trigger Cable: Use the optional external trigger cable connected to the auxiliary I/O connector (AUX) to trigger the unit at the same time as an event occurs. Requires the optional auxiliary I/O connector be installed.
Instantel Factory-Installed Options
Optional Extended Memory: Factory installed option increases memory to 60 MB for a storage capacity of over 4000 events.
Optional Auxiliary I/O Connector: Factory installed option allows for the connection and operation of the Instantel Remote Alarm and or External Trigger Cable.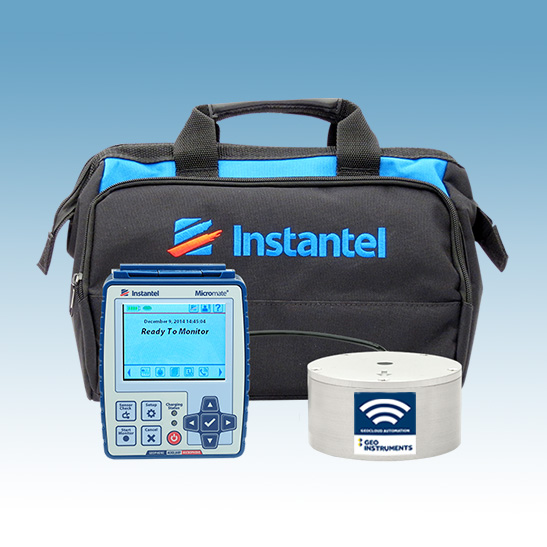 Instantel Micromate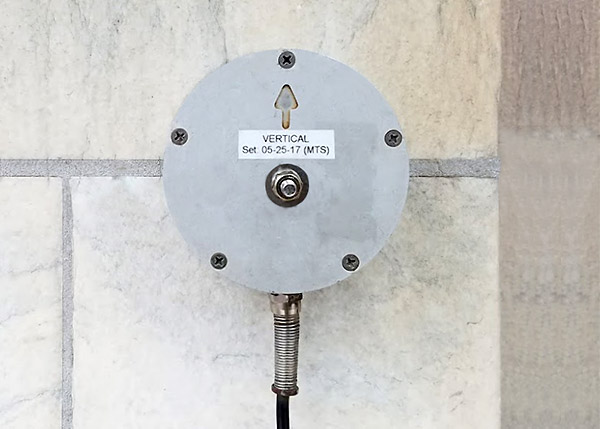 Instantel Triaxial Geophones
ISEE geophones, the standard in the US, are calibrated for 2-250 Hz.
DIN 45669-1 Class 1 geophones are calibrated for 1-315 Hz.
Both measure particle velocity up to 254 mm/s (10 in/s) and provide resolution of 0.00788 mm/s (0.00031 in/s).
Horizontal geophones ( standard) are suitable for horizontal surfaces or for shallow burial.
Vertical geophones, shown above, are mounted on walls or other vertical surfaces.
Also available are brackets that allow a horizontal geophone to be mounted on a vertical surface.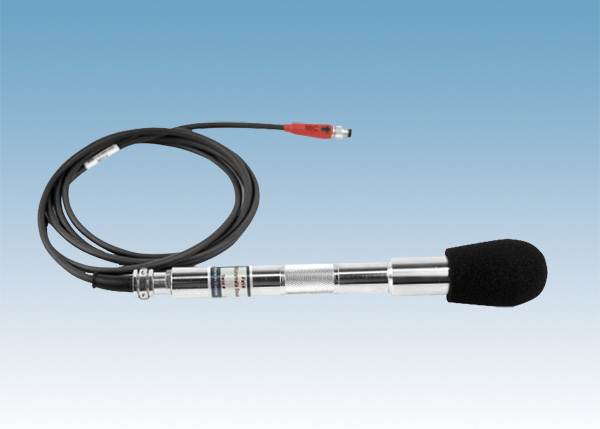 Instantel Microphones
Linear Air-Overpressure microphones are suitable for blasting operations.
Sound Level Sensors are designed for sounds that humans can hear, such as construction noise.
Purchase an Instantel Micromate - Request a Quote
A typical purchase includes:
Instantel Micromate
ISEE Triaxial Geophone, horizontal, with 6 foot cable
USB interface cable
Blastware Software
AC power adaptor (120 VAC)
Carrying case