Project Overview
Construction of the Automated People Mover at Dulles International Airport involved deep excavations and tunneling. GEO-Instruments monitored excavation support systems to provide early warning of movement and taxiways for possible settlement due to tunneling. Together, there were 450 IPI sensors and 70 wireless rod-extensometers, data loggers, and web-based monitoring.
Monitoring the Excavation-Support System
To ensure safety, airport management required continuous monitoring of the excavation support system to provide early warning of any movement or unexpected trends.
GEO-Instruments installed 450 vertical IPI sensors in 40 inclinometer casings. Due to the high electro-magnetic inference (EMI) present at the site, GEO-Instruments deployed special active filters that remove spurious noise from the data. This resulted in a very rugged system with exceptional immunity to EMI.
Monitoring Taxiways for Settlement
Tunnels were built under active taxiways during this project. Airport management required that the taxiways be monitored for settlements due to the potential for tunneling-induced ground loss.
GEO-Instruments designed and built 70 wireless extensometers for this purpose. The extensometers were installed with two four-anchor extensometers on either side of the tunnel and one extensometer over the centerline of the tunnel. Each extensometer was equipped with a long-life battery, logger, and radio, all of which were installed to be flush with the taxiway pavement. The antenna was embedded in the aircraft-rated lid, which is now called the Lid-Link Antenna.
Data Collection, Alarms, and Graphs
A GEO-Instruments server collected sensor data hourly and then made the data available in graphic form on a project website. The system monitored incoming data for alarm conditions and provided alarm notifications by email and text messaging.
Retrospective Update
How would we monitor this project today? Read our retrospective update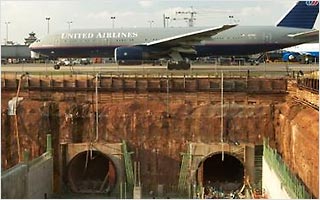 Construction of the Automated People Movers at Dulles International Airport required excavations and tunneling.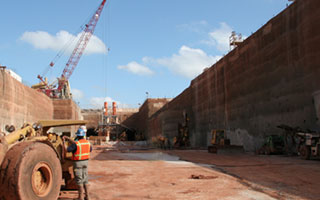 IPIs monitored earth retention systems for the excavations.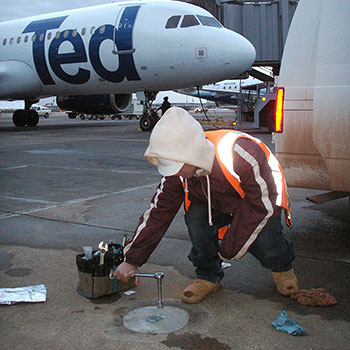 Wireless extensometers installed in taxiways monitored for possible settlement due to the tunneling activities.