GeoCloud laser distance meters provide automated distance measurements to monitor potential movement of remote structures. These sensors are also called laser extensometers or optical displacement sensors. Datasheet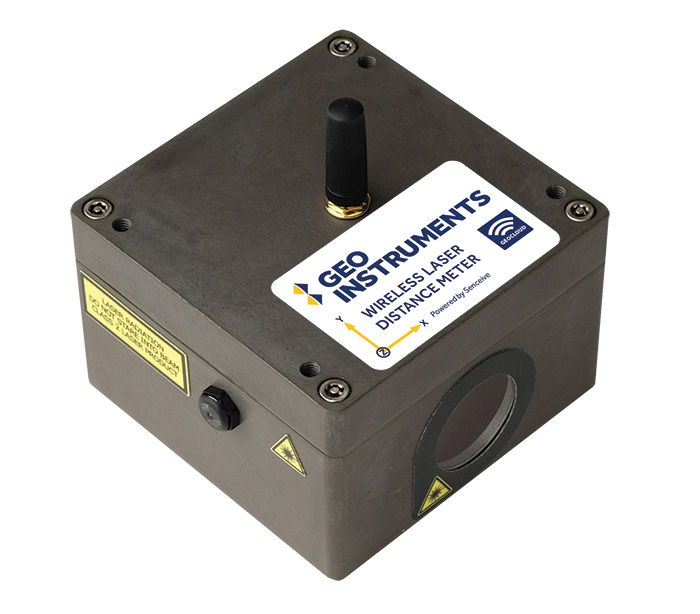 Applications
Monitoring pillars, bridge decks, retaining walls, tunnel profiles for deformation or movement.
Monitoring heave or settlement of floor slabs (changes in ceiling-floor distances).
Monitoring structural movements at locations that are difficult or dangerous to access.
Monitoring change in inclination using the built-in 3-axis tiltmeter.
Advantages
Remote measurements: The laser distance meter works with natural surfaces up to 165 feet away and with targets up to 500 feet away.
Built-in Tiltmeter: A built-in tiltmeter provides high resolution tilt measurements.
Easy Installation: The module is compact, easy to install, and requires almost no maintenance.
Cable-Free: GeoCloud sensors provide their own power and transmit measurements by radio, entirely eliminating the cost of cables, cable protection, and cable maintenance.
GeoCloud Services: GeoCloud provides access to data wherever there is an internet connection. GeoCloud services operate 24 hours a day, processing measurements, checking for alarms, and generating graphs, reports, and alerts.
Related Datasheets
Specifications
Laser Distance Sensor
Sensor: Laser Class 2, 655 nm (visible red).
Range: 165 feet from natural surface target, 330 feet from white target, 500 feet from reflective target.
Resolution: 0.004 inch.
Repeatability: ±0.006 inch.
Tiltmeter
Sensors: MEMS tilt sensors in three axes. Range: ±90° in each axis.
Resolution: 0.0001°.
Repeatability: ±0.0005°.
Hardware
Battery life: 10 years at 1 hour reporting
interval, 8 years at 30 minute reporting interval, including acting as a relay.
Environmental: IP68 at 1m for 24 hours, -10°C to +50°C for full functionality of laser, -25 °C to +85°C for tiltmeter.
Dimensions: 3.5 x 3.5 x 2.4 inch high.
Communications
Protocol: Proprietary Senceive FlatMesh networking protocols, IEEE802.15.4 compliant. FCC approved.
Gateway to Internet: Cellular.