GeoCloud Vibrating Wire Nodes obtain measurements from vibrating wire sensors, digitize them, and then transmit them via a cellular gateway to GeoCloud servers for processing and presentation. Datasheet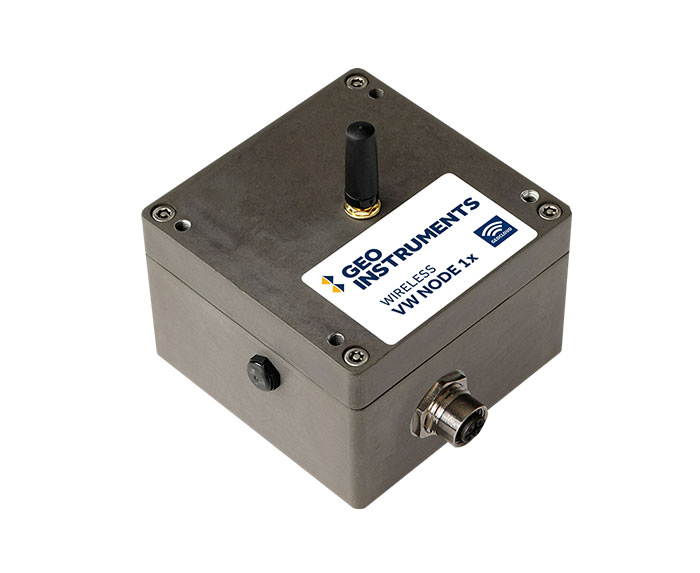 About Vibrating Wire Sensors
Vibrating wire sensors are widely used in geotechnical monitoring, especially for applications where sensors are installed in the ground or embedded in concrete. They are also used in surface applications where their physical robustness is an advantage.
Advantages of VW Nodes
High Performance: VW Nodes provide high resolution, high
precision, low noise measurements.
Cable-Free: VW Nodes provide their own power and transmit measurements by radio, entirely eliminating the cost of running cables to a central datalogger.
Self-Configuring Communications: GeoCloud nodes optimize communication paths to the gateway automatically. This greatly improves reliability and power consumption when line of sight is not available or is blocked temporarily.
Internet or Local Access: The cellular gateway transmits measurements to the internet, where they can be accessed by an internet browser. The USB gateway provides on-site access via a tablet.
GeoCloud Services: GeoCloud provides access to data wherever there is an internet connection. GeoCloud services operate 24 hours a day, processing measurements, checking for alarms, and generating graphs, reports, and alerts.
GeoCloud Single Port VW Node
Capacity: 1 VW sensor with thermistor.
Battery Life: 19000 mAh battery provides 12-15 years with 20 to 30 minute reporting intervals.
Weight: 1.25 lb.
Dimensions: 3.5 x 3.8 x 2.4 inches.
GeoCloud Four-Port VW Node
Capacity: 4 VW sensors with thermistors.
Battery Life: 34400 mAh battery provides 12-15 years with 20 to 30 minute reporting intervals.
Weight: 1.65 lb.
Dimensions: 3.5 x 5.4 x 2 inches.
VW Sensor Compatibility
Sensor Type: Vibrating wire, 200 to 6500 Hz.
Excitation: Swept sine wave, 6V peak to peak.
Resolution: 0.001 Hz.
Repeatability: ±0.02 Hz.
Temperature Sensor: 3kΩ thermistor.
Temperature Accuracy: ±0.1°C.
Temperature Range: -40 to +85°C.
Hardware
Housing: Die cast Aluminum.
Connectors: Sensor cable requires M12 female screw-in connector.
Operating Temperatures: -40°C to +85°C.
Weatherproofing: IP68 at 1m for 24 hours.
Communications
Protocol: Proprietary Senceive FlatMesh network protocol, IEEE802.15.4 compliant.
Frequency: 2400-2485 MHz ISM Band.
Range: 980 feet (300m) point to point. Can be extended when nodes act as repeaters.
Gateway to Internet: Cellular.