GEO-Instruments maintains a rental stock of Slope Indicator inclinometer systems. We offer both the Classic Systems and the AT systems, which are described below.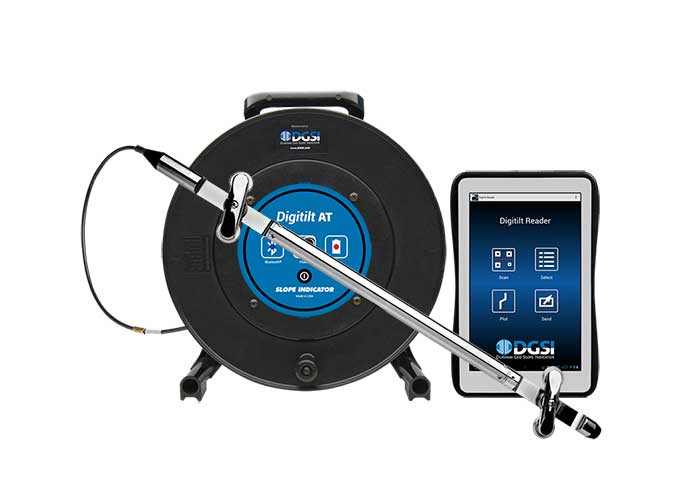 Digitilt AT
The Digitilt AT is a MEMS-based system. It has three components: the AT probe, a reel with light-weight control cable, and a blue-tooth tablet serving as the readout.
The AT is lightweight and easy to carry. The tablet is easy to read and the cable has numbered depth marks which helps prevent mistakes in the survey. The battery in the reel can power the probe for 10 to 12 hours. The downside is the battery life of the tablet, which can be fairly short if you need to turn up the brightness on the display. When you go out to take surveys with the AT systems, it's best to bring along a means of recharging the tablet.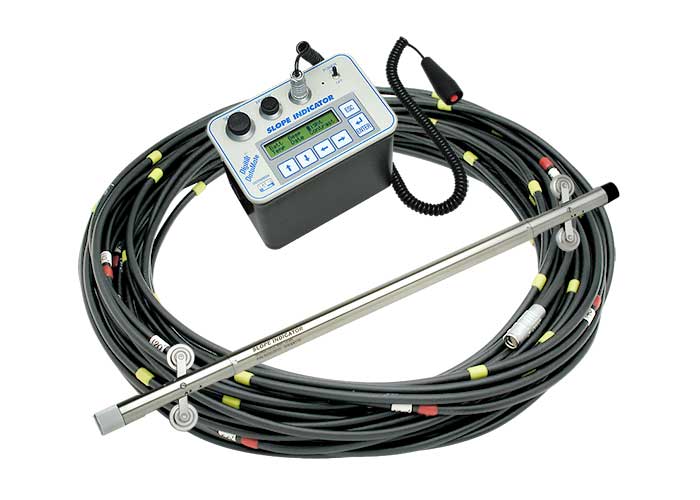 Digitilt Classic
The Digitilt Classic is the original analog system. It has three components: the Digitilt analog probe, heavy-duty control cable, and the Digitilt DataMate readout.
The Classic is a tried and true system. Everything is hardwired and no bluetooth connections are involved. The DataMate readout contains a big battery that can power the system for 8 to 12 hours. On the downside, the Classic system is heavy and the cable depth marks are just colored bands with numbers every 10 feet, so depth control has a little learning curve.