Hardware & Software
Three components are needed for monitoring construction vibrations: a geophone, a vibration monitor (also called a seismograph), and software for reports and analysis. Optional weatherproof enclosures, power solutions, and automated communications and processing can increase efficiency and reduce costs.
Related Pages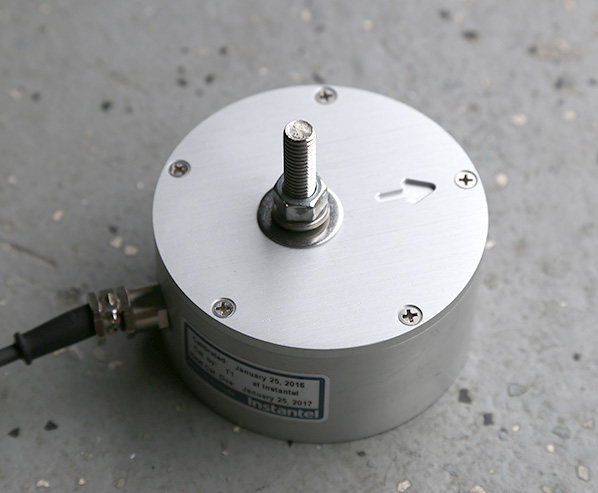 Triaxial Geophone
Contains three geophone sensors to monitor transverse, vertical, and longitudinal vectors.
Configured for horizontal installation or vertical (wall) installation on request.
Standard ISEE geophone is suitable for construction monitoring.
Specialty sensors are available for unique conditions.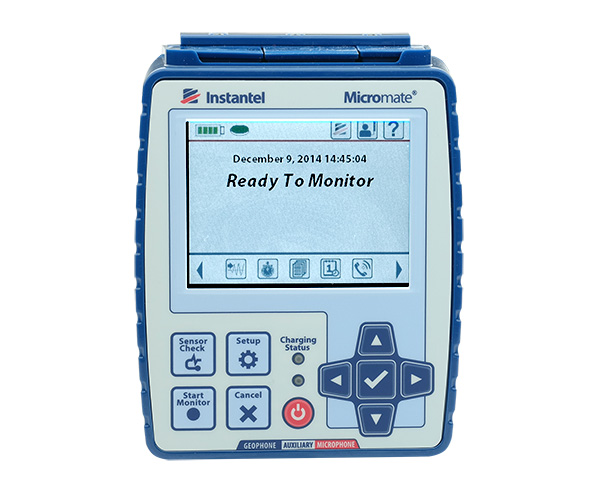 Vibration Monitor / Seismograph
Accepts geophones and microphones.
Records data for histograms and waveforms.
Displays PPV, frequencies, max acceleration, and max displacement.
Provides "auto call home" feature, assuming that you have a cellular modem, power for the modem, and a way to receive the data.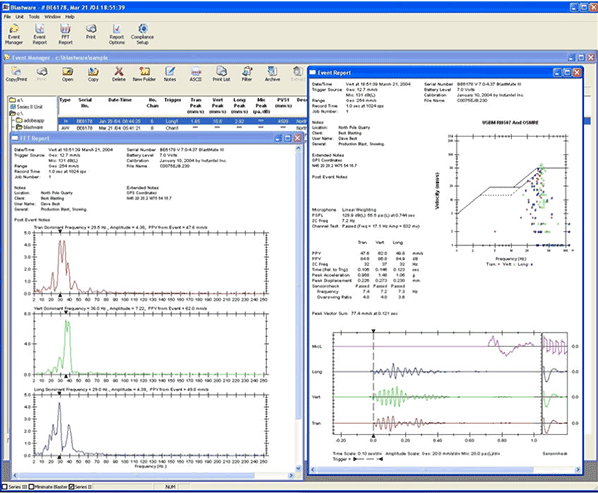 Report and Analysis Software
Transfers data from vibration monitor to PC
Processes data.
Generates event reports and histograms.
Supports FFT and other analysis tools.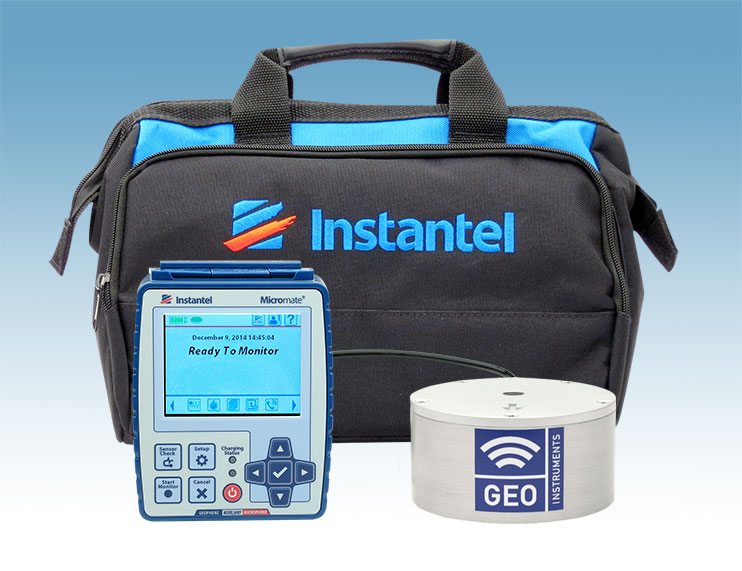 Manual Vibration Monitor
Manual vibration monitors get the job done. They are lightweight and easy to relocate. Rental packages include everything necessary: a carrying case, an Instantel vibration monitor, a geophone, an AC charger, an interface cable, and software for processing data.
Keep in mind that manual vibration monitors are minimally protected from the environment and are not easily secured. In most cases, you'll need a technician hovering nearby, and you'll always need someone to offload and process data.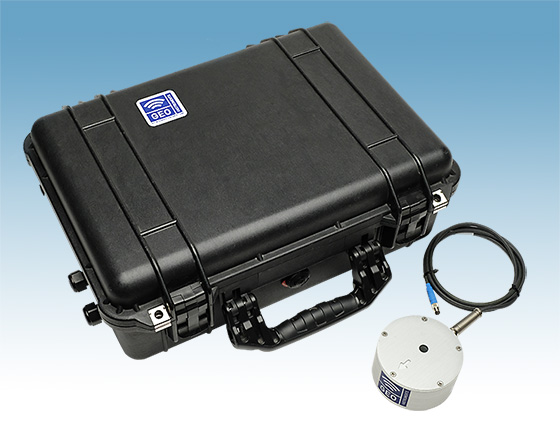 PVM – Protected and Automated
The PVM encloses the vibration monitor in a strong waterproof case that can be locked and easily secured. It includes an Instantel vibration monitor and geophone, a cell modem with activated cell service, and a 15 Ah battery with charging regulator.
Portable and easy to deploy, the PVM can be left unattended on site for several days. Data transfers, processing, and reports are fully automated.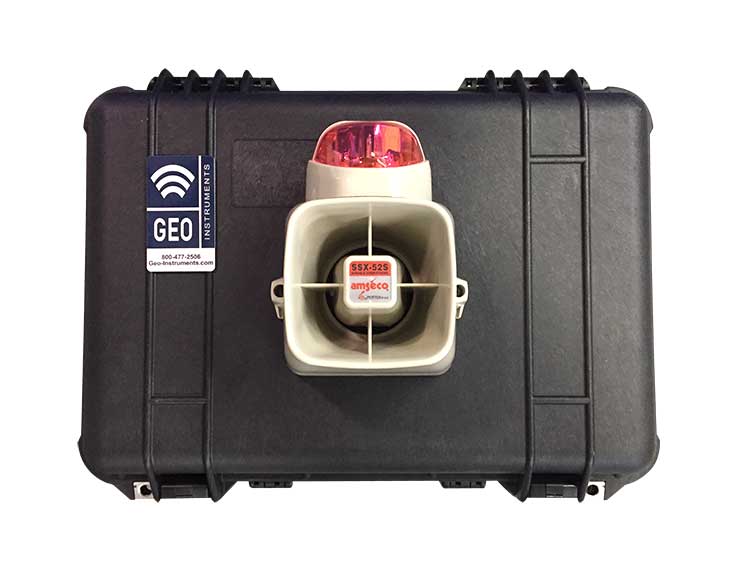 Alerts and Alarms
In histogram-combo mode, vibrations are sampled vibration continuously and PPV values are recorded at regular intervals. If a PPV value exceeds an alarm limit, two actions are triggered: a waveform of the event is recorded and sent to the server, and an sms or email alert is sent from the server to PCs and smart phones.
If direct, on-site notifications are required, an alarm unit with strobe and siren can be connected.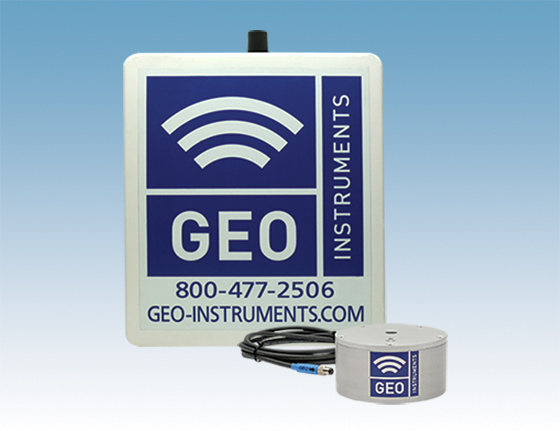 AVM – Stationary Deployment
The standard AVM is supplied in a lockable, weatherproof enclosure that can be mounted on a wall or pole. It includes an Instantel vibration monitor and geophone, a cell modem and service for automated data transfers, a 7Ah battery with charging regulator, and an AC adaptor.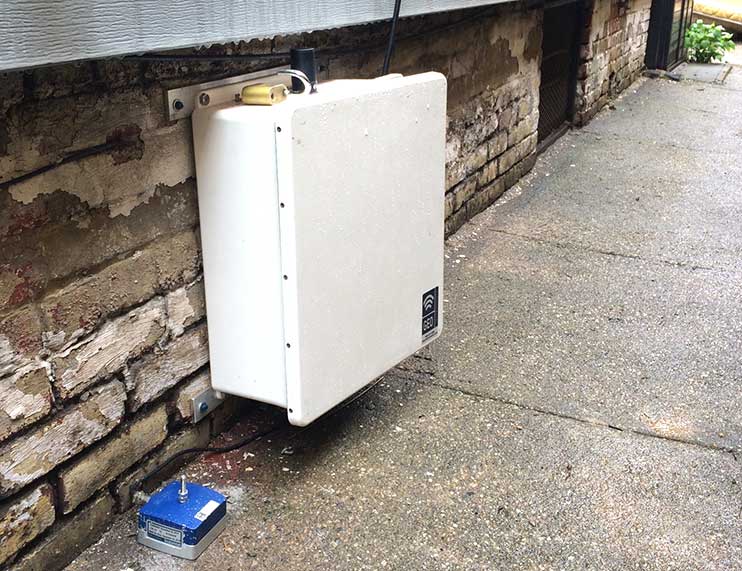 Wall-Mounted AVM
AVMs are designed for stationary deployment. In the photo above, the AVM is securely mounted to the wall and the geophone is installed nearby. An AC power adaptor is connected to keep the battery charged. The external antenna provides good range and a reliable signal.
SVM – Solar AVM
The SVM is a self-standing AVM supplied with a solar panel and lockable, weatherproof enclosure. It can be deployed quickly and operate autonomously for days and weeks.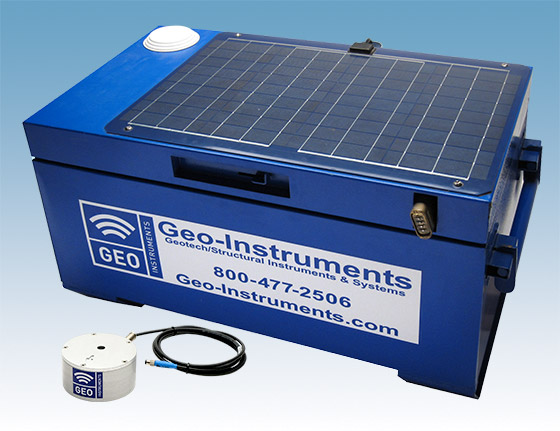 RVM – Rugged AVM
The RVM features a heavy-gauge steel enclosure and a shatterproof solar panel. It includes an Instantel vibration monitor and geophone, a cell modem and service for automated data transfers, two well-secured, large capacity AGM batteries, modular connections, fuses, control panel, a solar controller with digital readout, and more.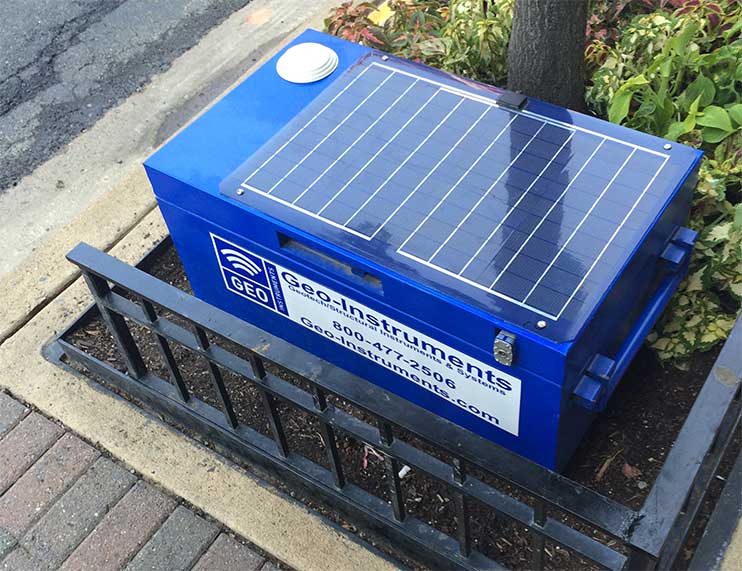 RVM in Public Area
The weight and construction of the RVM make it suitable for deployment in public areas. The geophone and its cable can be installed below the enclosure where they are protected. The solar panel keeps the battery charged and eliminates the need for an AC power cord, and the low-profile antenna doesn't offer opportunities for vandalism.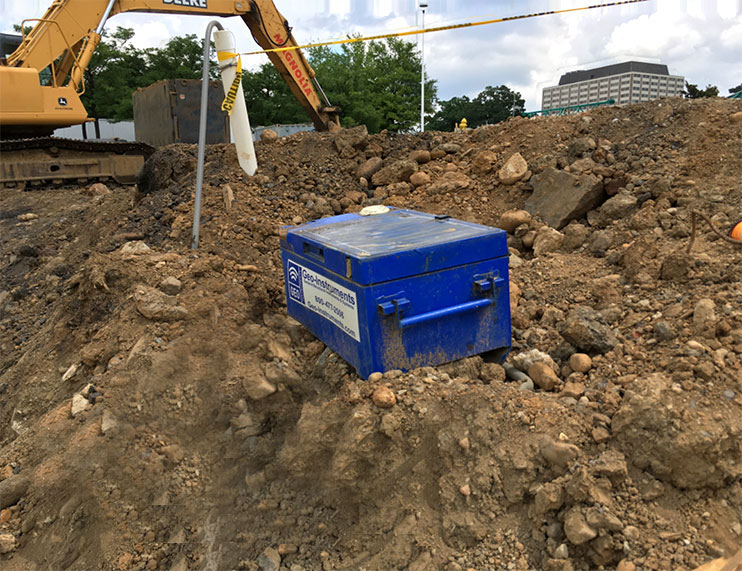 RVM at Construction Site
The RVM can also withstand rough treatment at a construction site. Above, an RVM was deployed to monitor a borehole geophone installed next to a critical utility vault. Placement was constrained to an exposed location, but the dented and bruised RVM continued to operate reliably, despite having been struck by heavy materials and buried repeatedly.
Questions & Answers
How many geophones can I connect to one vibration monitor?
Short answer: The Instantel Micromate and Minimate Plus accept only one geophone. They both offer "4 channels," but the triaxial geophone takes three channels, and the microphone takes one channel.
Long answer: There is an "8-channel" version of the Minimate that accepts 2 geophones and 2 microphones. It is intended for specialized monitoring where, for example, one geophone is installed on a structure and the other on the ground in front of the structure.
Can I connect an extension cable to a geophone?
Answer: Yes, 10, 25 and 50 foot extension cables are available. However, we recommend keeping cables as short as possible. Short cables are less susceptible to electronic noise and less likely to be damaged by construction activities.
Can geophone cables withstand traffic loading (i.e. across parking garage driveway)?
Answer: Geophone cables are not designed for traffic. If you must route a cable across a driveway, we recommend protecting it with a traffic-rated mat or through a trench, if possible.
What is the best way to install a geophone?
Answer: The ISEE has standards for geophone installation. In general, the geophone must be level and the arrow should point toward the source of the vibration. We recommend burying the geophone when possible. If the only surface is concrete, we recommend installing an all-thread anchor into the structure, then slipping the geophone onto the anchor (there is a hole in the geophone for this purpose) and then hand-tightening a nut to hold in in place. If you must use sandbags, consider using two bags to prevent side to side movement and one bag to prevent up and down movement.
What are the dimensions and weights of the PVM, AVM, and RVM?
PVM: 20 x 15 x 7 in, 33 lb with one battery, 42 lb with two batteries.
AVM: 18 x 16 x 6 in, 32 lb, without optional solar panel.
SVM: 30 x 18 x 11 in (open), 80 lb.
RVM: 31 x 21 x 18 in, 250 lb.
Do you have any more specs?
Yes. Visit our Vibration Monitor Rentals page for full specifications
How long can the PVM operate on a fully charged battery?
The PVM is shipped with a 15Ah battery. It provides power to the cell modem and also keeps the Micromate's internal battery charged. The fully charged battery provides about three days of monitoring and communications. A second battery can be added to the PVM if a longer operating time is required. Actual battery life depends on the frequency of data transmission, cell signal strength, ambient temperatures, etc. Finally, note that the Micromate can continue to operate on its internal battery but will not be able to transmit data offsite until the 15 Ah battery is swapped or recharged.
Next: Manual vs Automated Monitoring
Let's Talk
We want to make rentals easy, but we also want to make them right. A short discussion is all it takes. Call us at 800-477-2506 or fill out the form below so we can call you.