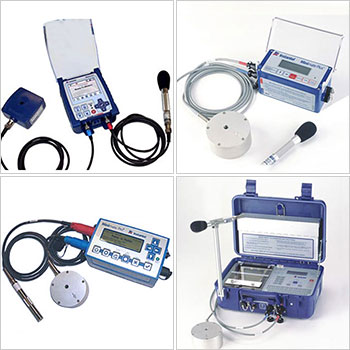 Instantel Equipment
GEO-Instruments specializes in sales, rentals, calibrations, and repair of Instantel vibration monitoring • seismograph equipment. Our rental fleet includes the Instantel Micromate, Minimate Plus, Minimate Pro4, and Blastmate III monitors.
Micromates and Minimates are suitable for most construction vibration applications and are the most popular rentals.
ISEE triaxial geophones are most common, but DIN geophones are available.
We can supply over-pressure microphones, if required.
If your project requires 24/7 compliance monitoring, consider an automated system.
Learn more: Vibration Monitor Guide
Attend our short course: Best Practices for Vibration Monitoring
Our rental packages are described below. Portable systems are shipped within 24 hours. Automated systems are usually operational within a week. All systems are available at weekly or monthly rates. We make renting easy. Call us at 800-477-2506 or use the form at the bottom of the page.
Manual Vibration Monitors
Manual systems are ideal for short-term compliance monitoring of blasting and pile driving. The operator places the monitor and geophone at the required location, sets trigger levels and a monitoring period. At the end of the monitoring period, the operator transfers the recorded data to a Windows PC, and then uses the included Blastware software to print histogram and waveform reports. This rental typically includes:
Carrying case
Instantel Minimate Plus or Micromate
Geophone with cable and spikes
AC power cable with suitable adaptor
Data transfer cable with suitable adaptor
Blastware software & manual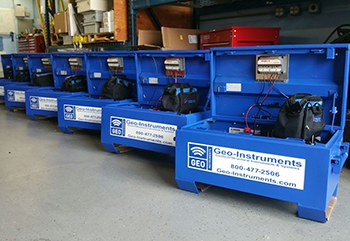 Automated Vibration Monitors
AVMs eliminate nearly all handling of data and provide reliable, cost-effective monitoring for longer term projects. Powered by battery, solar panel, or AC, an AVM includes a weatherproof enclosure, an Instantel vibration monitor and geophone, and a cell modem with service. Recorded readings are automatically transferred offsite to a GEO server for processing. Alert notifications are automatically sent to PCs and smartphones. And finally, histograms and waveforms are automatically printed to PDF reports, optionally emailed to stakeholders, and stored on a secure project website for easy access. Compare: Manual vs Automated Vibration Monitoring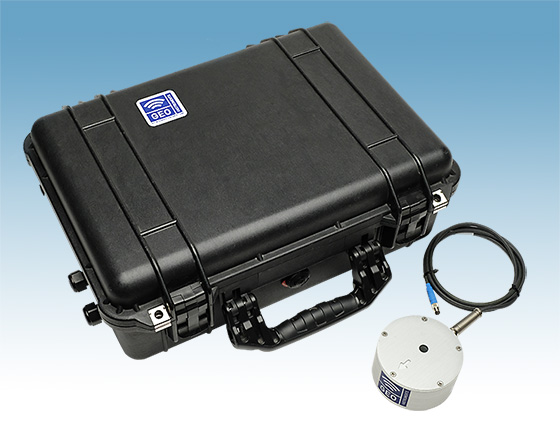 PVM: Portable AVM
The PVM adds the convenience of automation to a portable vibration monitor in a strong weatherproof case. It includes an Instantel vibration monitor, a geophone with 6.5 ft cable, a cell modem, and a 15Ah battery with charging regulator, an AC adaptor, and services.
Monitoring Time
Approximately 3 days on a fully charged battery, depending on cell signal strength and ambient temperature.
Dimensions & Weight
20 x 15 x 7 in, 33 lb.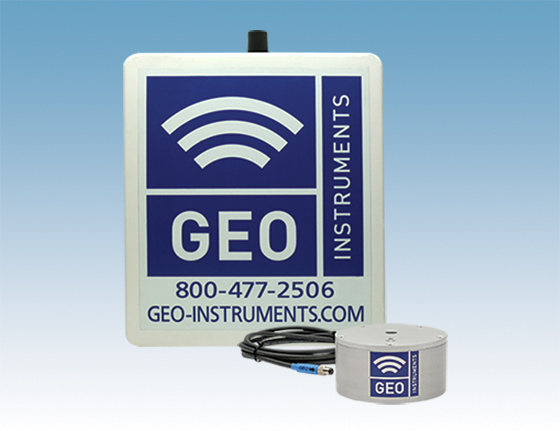 AVM: Wall-Mounted AVM
The wall-mounted AVM is supplied in a lockable, weatherproof enclosure that can can be mounted on a wall or pole. It includes an Instantel vibration monitor, geophone with 6.5 ft cable, a cell modem, a 7Ah battery with charging regulator, an AC adaptor, and services.
Monitoring Time
In typical scenario, AC adaptor is connected to AC line power for duration of monitoring, which can be weeks or months.
Dimensions & Weight
18 x 16 x 6 in, 32 lb.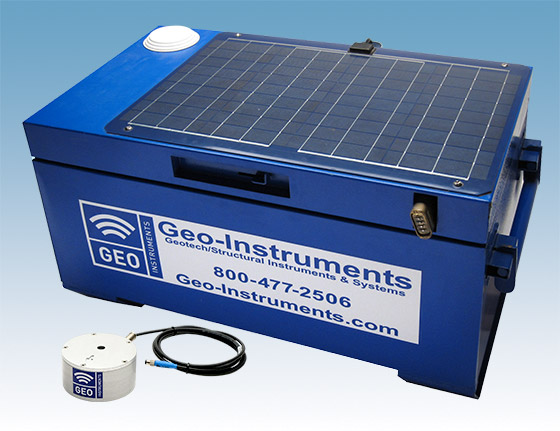 RVM: Rugged AVM
The RVM provides power autonomy and extra protection with its shatterproof solar panel and heavy-gauge steel enclosure. It includes an Instantel vibration monitor, geophone with 6.5 ft cable, a cell modem, two 110Ah batteries, a solar controller, and services.
Monitoring Time
Two 110 Ah batteries and 35W solar panel can provide weeks or months of operation, depending on the environment.
Dimensions & Weight
31 x 21 x 18 in, 250 lb.
Included Services
Continous monitoring
Cellular data service
Automated data transfers
Automated memory management
Automated data processing
Automated alert notifications
Automated reports
Secure data storage on project website
Web access to data & reports
Options
Extension cable for geophone
Geophone configured for wall mounting
Microphone for air-overpressure
Microphone for sound level
Alarm unit with strobe and siren
Second battery (PVM)
Solar Power Kit (AVM)
AVM Diagram
The AVM monitors continously in histogram-combo mode. Measurements are transferred offsite to GEO's AMP server at scheduled intervals. If a waveform recording is triggered, it is transferred immediately after the event.
The AMP server receives and processes the measurements, checking if alarms notifications should be sent. Notifications are sent out as emails or text messages.
Measurements are then stored in a project database and made available on the project website. Users visit the project website to see PPV status, histogram reports, and waveform reports.
Instrument Specifications
Monitor / Seismograph
Instantel Micromate or Minimate Plus
Inputs include 3 channels for the triaxial geophone and 1 channel for the optional microphone.
LCD operates from 14 to 131 °F (-10 to 55 °C)
Electronics operate from -4 to 140 °F (-40 to 45 °C)
Geophone
Triaxial, configured for horizontal placement
Range: Up to 10 in/s (254 mm/s).
Standard: ISEE or DIN 45669-1.
Resolution: Better than 0.005 in/s (0.127 mm/s).
Frequency Range, ISEE: 2 – 250 Hz,
DIN: 1 – 315 Hz.
Accuracy, ISEE: ±5% or 0.02 in/s,
DIN: 45669-1
Cable: 6.5 ft (2 m),
Max allowed: 3280 ft (1000 m).
Option: Configure geophone for vertical mounting
Microphone (Optional)
For Air-overpressure
Weighting: ISEE Linear Microphone.
Standard: ISEE 2011.
Range: 88 to 148 dBL,
0.00029 to 0.0725 psi,
2 – 500 Pa.
Frequency Response: 2 to 250 Hz.
Accuracy: ±10% or ±1dB between 4 to 125 Hz.
Cable: 6.5 ft (2 m),
Max allowed: 250 ft (75 m).
Note: Sound level monitoring requires A or C-weighted microphones, which are also available.
Waveform Recording
Seismic Trigger: 0.005 to 10 in/s
(0.13 to 254 mm/s).
Acoustic Trigger: 100 to 148 dB
(2 to 500 pa).
Sample Rate: 1024, 2048, or 4096 samples per sec per channel.
Record Time: 1 to 90 seconds.
Histogram Recording
Modes: Histogram only, histogram + waveform combo.
Recording Interval: 2 sec to 30 min.
Let's Talk
We want to make rentals easy, but we also want to make them right. A short discussion is all it takes. Call us at 800-477-2506 or fill out the form below so we can call you.