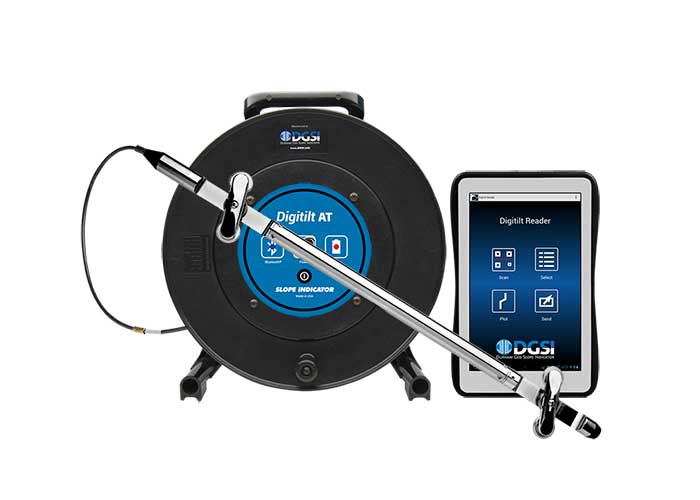 Digitilt AT
The Digitilt AT is a MEMS-based system. It has three components: the AT probe, a light-weight control cable that is mounted on a reel, and a blue-tooth tablet that serves as the readout.
The AT is lightweight and easy to carry. The tablet is easy to read and the cable has numbered depth marks which helps prevent mistakes in the survey. The battery in the reel can power the probe for 10 to 12 hours. The downside is the battery life of the tablet, which can be fairly short if you need to turn up the brightness on the display. When you go out to take surveys with the AT systems, it's best to bring along a means of recharging the tablet.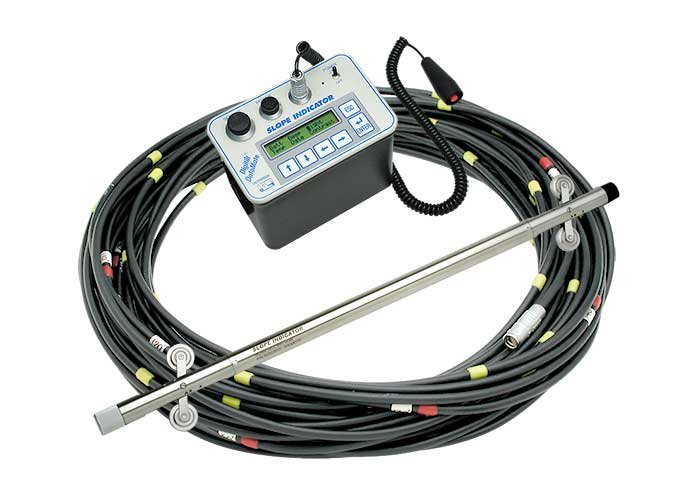 Digitilt Classic
The Digitilt Classic is the original analog system. It also has three main components: the Digitilt analog probe, heavy-duty control cable, and the Digitilt DataMate readout.
The Classic is a tried and true system. Everything is hardwired and no bluetooth connections are involved. The DataMate readout contains a big battery that can power the system for 8 to 12 hours. On the downside, the Classic system is heavy and the cable depth marks are just colored bands with numbers every 10 feet, so depth control has a little learning curve.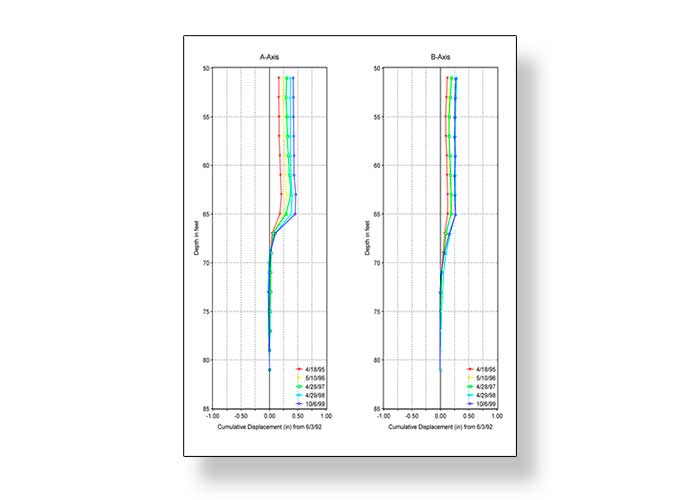 Graphing Software
Inclinometer surveys are data intensive and best processed with dedicated software. DGSI generously provides a trial version of their DigiPro2 inclinometer software, which can be downloaded from their website. The trial offers 45 runs, which will probably meet your short-term needs. Of course, you may decide to purchase it, too. DigiPro2 works with both Classic and AT systems. Download DigiPro 2
Which is best for you – Classic or AT?
Suggestion 1: Use the same system that you used before. If you used a Classic system, stay with the Classic system. If you used the AT system, stay with the AT system.
The two systems aren't compatible. If you want to know why, read the three part FAQ on the DGSI website. There are complicated work-arounds, but save yourself a headache and just don't mix systems.
Suggestion 2: If you've just installed the casing and haven't done an inclinometer survey yet, go with the AT system. It's lighter and easier to use.
Suggestion 3: If you have no tolerance for digital things, go with the Classic. It's rock solid.
Ask about Availability
Call us at 800-477-2506 or use the form to ask about availability.