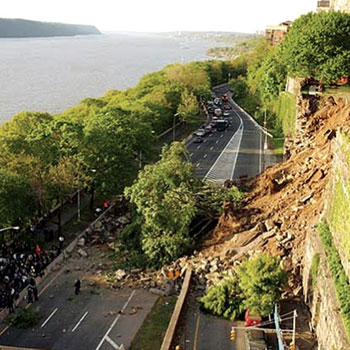 When the Castle Village retaining wall failed, 41,000 cubic yards of rock, soil and trees slumped onto a major urban highway. The failure closed the highway and endangered nearby apartment buildings.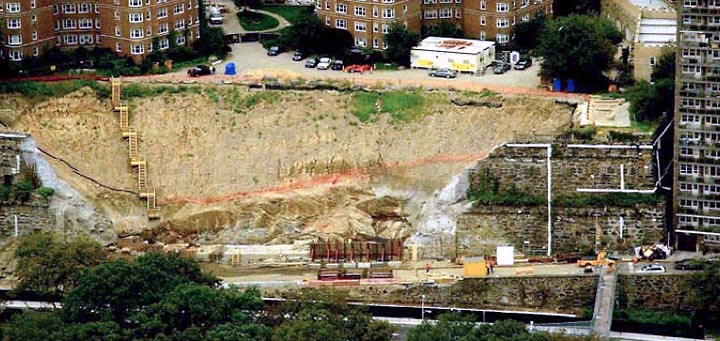 The photo above shows the scale of the failure, some months later. The highway has been reopened, debris cleared, and reconstruction begun. GEO instrumented remaining portions of the wall on both sides of the failure. The white lines one the right are protective covers for arrays of tilt-beam sensors. GEO also installed tilt-beam arrays on the left side of the failure, which is not visible in this photo.
GEO worked with the project engineers to develop a monitoring system.
The system was to operate 24/7 and update settlement, rotation, and displacement data every 15 minutes.
Readings were to be processed and displayed on web-based software.
If any movement exceeded alarm thresholds, alerts had to be sent by email and text messaging.
The system had to be running before the contractor would start work.
Wireless Data Retrieval: Logger access to cellular networks and the internet was relatively new and not well supported in 2006.
Wireless Alerts: Delivering SMS and email alerts generated from a website was still novel for the instrumentation world.
Project Website: Client access to secure project websites was new for small companies like GEO and required desktop PCs with an internet connection. Support for mobile access was still some years away.
Arrays of electrolevel tiltmeters to monitor deformation.
Electrolevel tiltmeters to monitor rotation.
Hydrostatic level sensors at the top of the wall to monitor settlement.
Vibrating wire crackmeters to monitor large cracks.
Hundreds of feet of cable and conduit.
Dataloggers with AC line power.
CPDP wireless modems.
Web-based software.
Access to the Wall: When GEO came on site, the wall was still blocked by soil, rocks, and trees. The team had to navigate through the debris to bring in equipment.
Manlift Operations: A 120-foot manlift was required for most of the work. It was difficult to position safely and unusable on windy days.
Tight Locations: Narrow access between the wall and an apartment building (seen in the photo above) was made even more difficult by overhead powerlines.
Cable Handling: Cables from the 100+ sensors had to be identified, pulled through conduit, and directed to loggers at the top of the wall.
Wireless Technology: Wireless data retrieval was a work in progress for this environment, and the CPDP modems needed regular care.
Bonus Challenge: Pigeons and rats that lived in the wall sometimes made surprise appearances.
Monitoring the Project in 2023
What technology would we use to monitor the same project in 2023?
Cellular networks and mobile internet access are key technologies for all of our projects now. They are widely available, easy to use, and provide high data rates.
Wireless node-and-gateway systems might offer economical alternatives to standard loggers with long runs of cable to individual sensors.
MEMS tilt sensors could replace electrolevels, since they are easier to install and don't require careful leveling.
Little has changed with crackmeters and hydrostatic levels.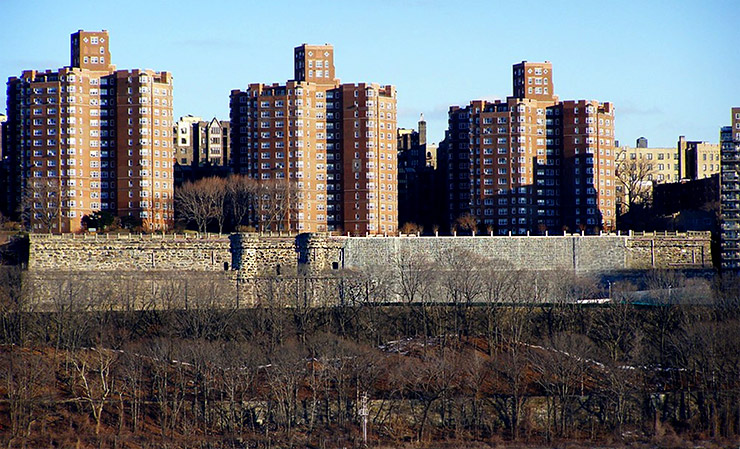 The repaired wall can be seen in this photo from 2010. GEO continued to monitor the wall for almost 10 years.