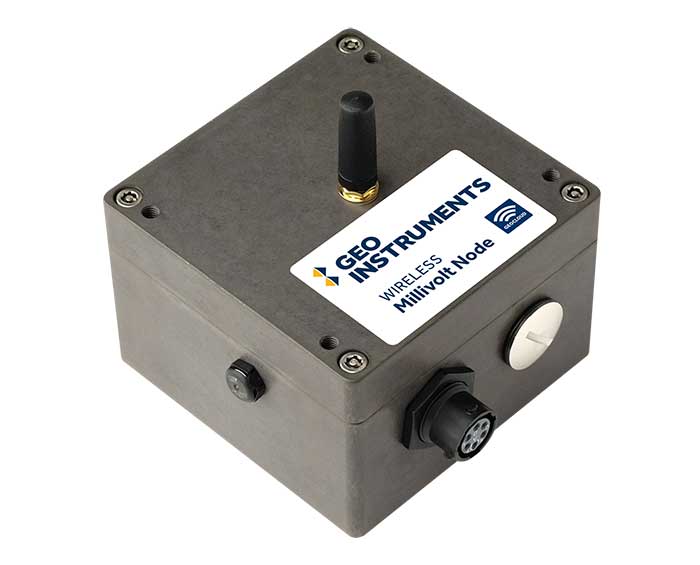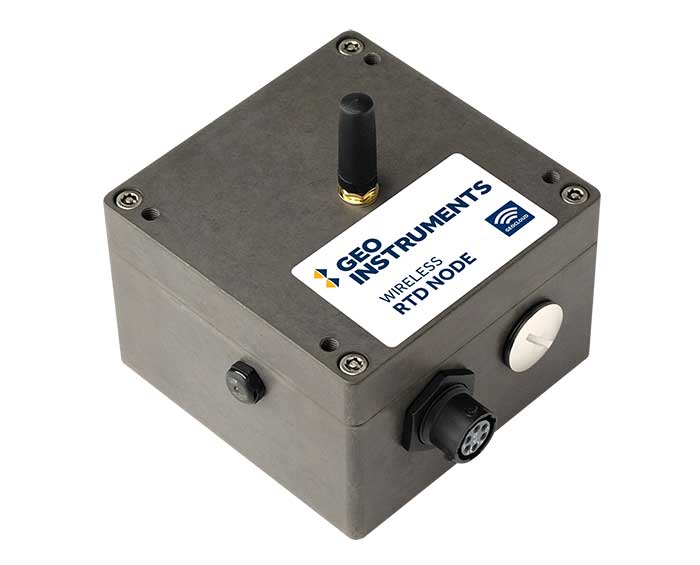 GeoCloud Wireless Nodes
GeoCloud Nodes obtain readings from analog sensors, digitize them, and then transmit them via a cellular gateway to GeoCloud servers for processing and presentation.
The use of nodes allows collection of measurements from a wide area and eliminates the expense and difficulty of installing and maintaining long runs of cable to centrally located data loggers.
GeoCloud Millivolt Node
The GeoCloud Millivolt Node offers compatibility with a wide variety of resistive bridge sensors including pressure sensors, foil strain gauges, torque sensors, load cells, load pins, moisture sensing, and conductivity sensors.
Capacity: 1 mV sensor with thermistor.
Excitation: 5.0V ± 0.1V, 150mA max.
Range: ±0.625V (±125mV/V).
Resolution: 74.5nV (14.9nV/V).
Repeatability: ±2.5μV (±0.5μV/V).
GeoCloud RTD Node
The GeoCloud RTD Node offers precision temperature monitoring using a variety of RTD temperature sensors.
Capacity: 1 RTD / PT100 sensor.
Excitation: Constant current.
Range: -40 to +185°F (-40 to + 85°C).
Resolution: < 0.01°C. Accuracy: < 0.1°C.
Datasheets
GeoCloud Millivolt & RTD nodes
GeoCloud Gateways
GeoCloud Sensor Overview
Hardware
Battery Life: 12 to 15 years with 20 to 30 minute reporting intervals.
Operation Temperature: -40 to +185°F.
Weatherproofing: IP68 at 1m for 24 hours.
Required Connector: M12 female screw-in connector on sensor cable.
Housing: Die cast Aluminum.
Weight: 1.25 lb.
Dimensions: 3.5 x 3.8 x 2.4 inches.
Communications
Protocol: Proprietary Senceive Flat Mesh Network,
IEEE802.15.4 compliant.
Frequency: 2400-2485 MHz ISM Band.
Range: 980 feet (300m) point to point. Can be extended when nodes act as repeaters.
Gateway to Internet: Cellular.