GEO-Instruments provides automated systems for monitoring the safety and stability of buildings, excavations, bridges, railways, roads, tunnels, dams, embankments, and slopes. We help owners, infrastructure operators, and construction engineers identify and mitigate risk, optimize designs and methods, and document regulatory compliance.
Integrated Sensing Technologies
GEO-Instruments has extensive experience in instrumentation, civil construction, and computer science. We can deploy and integrate a wide range of sensing technologies to meet project requirements.
Reliable Logging & Communications
GEO-Instruments can implement reliable logging and communications in nearly any environment, collecting measurements and transferring them offsite for processing.
GEO's automated monitoring platform (AMP) processes readings from sensors at the project site and distributes alarms, plots, and data to authorized users via the web. more …
GEO-Instruments establishes strong geometric networks when deploying AMTS systems. These networks not only improve precision and accuracy, but also provide flexibility when changes are required. more …
GEO-Instruments collects and processes data recorded by vibration monitors and makes reports available on the web. Ideal for compliance monitoring, this automation also frees technicians for other tasks. more …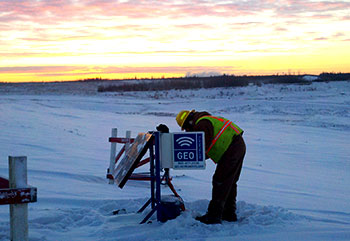 Efficient Field Services
GEO-Instruments mobilizes field services quickly. Our technicians are trained and cross-trained to ensure that field services are performed efficiently and that systems are installed and commissioned correctly.
PDF Datasheets
 Monitoring Structures 
 Monitoring SOE 
 Monitoring Settlement 
 Monitoring Deformation 
Automated Total Stations-AMTS
Automated Vibration Monitoring
Datalogging Systems
Automated Monitoring Platform
Let's Talk
Does your project require monitoring? Have some questions? Need some guidance? We can help. Call us at 800-477-2506 or fill out the form below so we can call you.