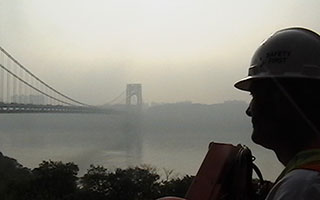 Experts in Automated Monitoring
• About GEO-Instruments
• Monitoring Structures
• Monitoring Support of Excavation
• Monitoring Settlement
• Monitoring Deformation
• Automated Vibration Monitoring
• Automated Total Stations – AMTS
• Web Access to Data – AMP
What we do
GEO-Instruments provides automated solutions for monitoring the safety and stability of buildings, excavations, bridges, railways, roads, tunnels, dams, embankments, and slopes. We supply, install, and integrate geotechnical sensors and geomatic systems, and we automate the collection, processing, and delivery of data.
Who we are
The GEO-Instruments team has broad experience in geotechnical instrumentation, information technology, construction, and civil engineering. We thrive on providing innovative solutions for challenging projects. Established in 2003, we have acquired a reputation for getting results and providing excellent customer service. We now operate from offices in the Northeast, the Mid-Atlantic, the Pacific Northwest, and California.
How we work
Depending on the needs of the project, GEO-Instruments works as an independent consultant or as integral members of the design and construction team. We employ the most appropriate technology and tailor our services to the unique requirements of each project. Our highest priorities are delivering practical, cost-effective solutions and maintaining good communications with all participants in the project. We go the extra mile to ensure success.